While there are many brands of compressed air systems, there is only one that remains "first in mind and first in choice."

This is the mission of Atlas Copco.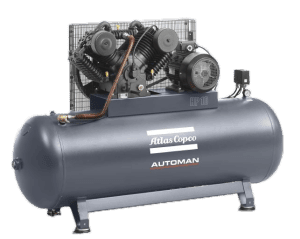 At A10 Compressed Air Services, our mission is to deliver unbeatable close air support by serving our customers with the very best care possible. But this level of service is only possible when it begins with the highest quality equipment.
That's why we're so excited to be named an authorized distributor for Atlas Copco, a global manufacturer of reliable and innovative air solutions.
With customers in more than 180 countries, the Atlas Copco name is a major force in the compressed air industry worldwide. Each piece of Atlas Copco equipment is designed and manufactured with a special focus on productivity, energy efficiency, safety and quality. Quite simply, their compressors are the best in the business.
As a company that is built on the standards of excellence, sustainability and quality, we know we've found the right partner in Atlas Copco. We're honored to represent their brand.
Likewise, experts will tell you a compressed air system's performance depends at least as much on how well it's installed and maintained as the equipment itself. Learn more about A10s diagnostic, maintenance and repair services.