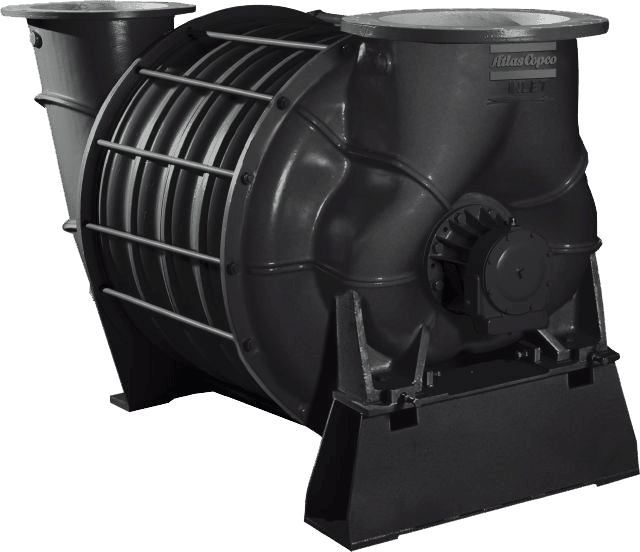 Atlas Copco's ZM oil-free multistage centrifugal blowers are working successfully in thousands of installations around the world. These reliable blowers are ideal for applications ranging from air to gas and pressure to vacuum. The ZM can be equipped with all the necessary accessories such as motor, valves, filters and skid as well as local or networked control panels to ensure a complete working system. A10 Compressed Air Services will find a ZM blower system to meet your exact requirements.
Specifications
Capacity FAD (cfm): 100-40000 cfm
Working pressure: 2 – 24 psig
Installed motor power: 5 – 3600 hp
Customer benefits
Exceptional reliability – The ZM blowers have earned the reputation of being the most reliable blowers in the industry. Even so, Atlas Copco still works to continually enhance the reliability of the ZM product line. In order to do this, they have made significant investments in the best people, facilities and equipment in the industry. Their commitment to Research and Development, Quality Control, and Product Testing, is driven by a desire to offer customers the reliability they require in a variety of air and gas as well as pressure and vacuum applications.
Maximum energy savings –ZM blowers were developed using the most advanced technology available. Tools including 3D Modeling, Computational Fluid Dynamics and Finite Element Analysis were used at the design stage to pinpoint areas where the blower could be improved. The resulting modern and innovative design allows for increased efficiency, while the wide product range and configuration options ensure we can offer the best solution possible to meet your needs.
Easy maintenance – You won't suffer from lengthy downtimes or process interruptions when your ZM is maintained. Service intervals are reduced to a minimum and maintenance is quick and simple. Maintenance points are easily accessible and basic repairs can be conducted with a minimum of time and materials offering you a low cost of ownership.

A10 Compressed Air Services provides a full range of Atlas Copco air compressors, vacuum pumps, filtration systems, receiver tanks and more for companies in South Carolina. For more information, Call (864) 605-7792 or email sales@a10air.com.