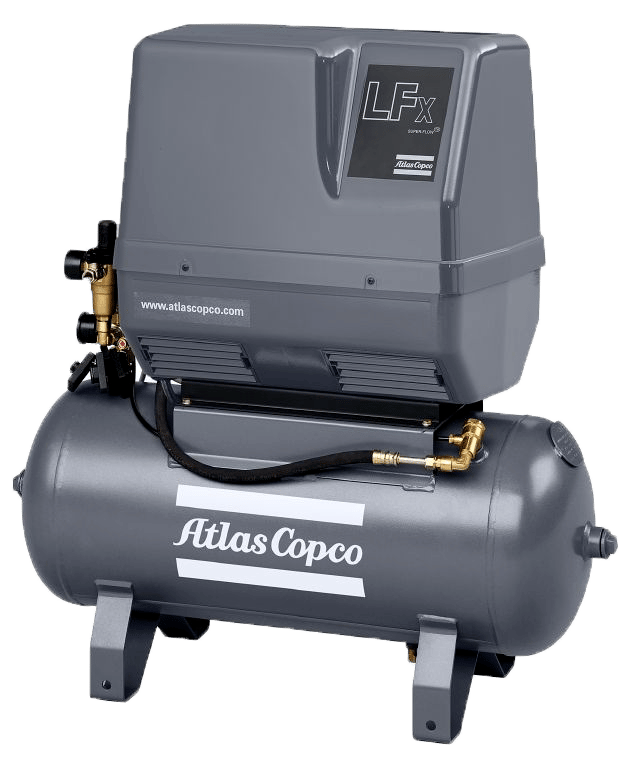 Atlas Copco's LF Industrial Oil-free Aluminum Piston Air Compressors stand for exceptional reliability and extremely low operating costs – and are virtually maintenance-free. LF air compressors are 100% oil-free, so they are ideal for your applications where oil cannot be tolerated. Incorporating state-of-the-art technology, LF air compressors deliver the lowest operating temperatures in the industry while offering superb quality air. High-quality materials ensure reliable performance and extra long life. The LF range is suitable for stand-alone use or easy integration in your OEM product. Also where maintenance-free compressed air is required, LF units are the best solution.
Customer Benefits
High Reliability – Thanks to a unique, robust design and the optimal combination of quality materials, LF Industrial Oil-free Aluminum Piston Air Compressors offer improved performance and extended product life.
Saving Floor Space – The compressor block which is directly coupled to the motor is manufactured using lightweight materials and provides excellent cooling characteristics: ideal for integration with limited space requirements.
Low Running Costs – Operational costs are limited over a long product lifetime.
Easy Maintenance – All components and service points are easily accessible.
Certified 100% Oil-free Air – LF air compressors provide 100% pure, clean air, complying with ISO 8573-1 CLASS 0 (2010) certification. CLASS 0 means zero risk of contamination; zero risk of damaged or unsafe products; zero risk of losses from operational downtime; and zero risk of damaging your company's hard-won professional reputation. In 2006, Atlas Copco was the first manufacturer in the world to receive such certification for an oil-free air compressor.
A10 Compressed Air Services provides a full range of Atlas Copco and Universal air compressors, vacuum pumps, filtration systems, receiver tanks and more for companies in South Carolina. For more information, Call (864) 605-7792 or email sales@a10air.com.