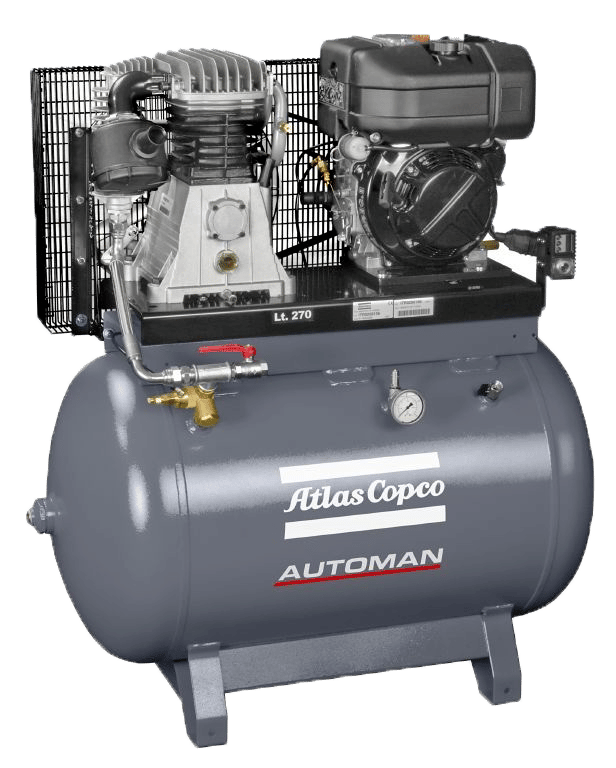 Air Cooled – 5 to 20 hp
Pressure – 60 to 175 psig
Capacity – 15 to 70 cfm
Meeting your requirements for cleaner, dryer air
Protecting your investment and end products
Reducing your service and maintenance costs
Available in vertical or horizontal configurations.
– Two stage, slow speed air compressor pump unit with finned cylinder and built in aftercooler
– Single and three phase motors to suit every supply voltage
– Gas Engine Driven
The AR Series Professional Piston Air Compressors brings out the best in quality, efficiency and reliability in an affordable piston air compressor. Whether you choose a vertical or a horizontal model, you get compressed air with exceptional reliability and minimum maintenance for a wealth of industrial applications. The Atlas Copco AR series of air compressors feature a hybrid cast iron and aluminum design that deliver up to 7.5 horsepower; while the 10 horsepower design features a pump constructed entirely of cast iron. The air compressors are splash lubricated and can be mounted on a receiver tank or sold as a block.
A10 Compressed Air Services provides a full range of Atlas Copco air compressors, vacuum pumps, filtration systems, receiver tanks and more for companies in South Carolina. For more information, Call (864) 605-7792 or email sales@a10air.com.