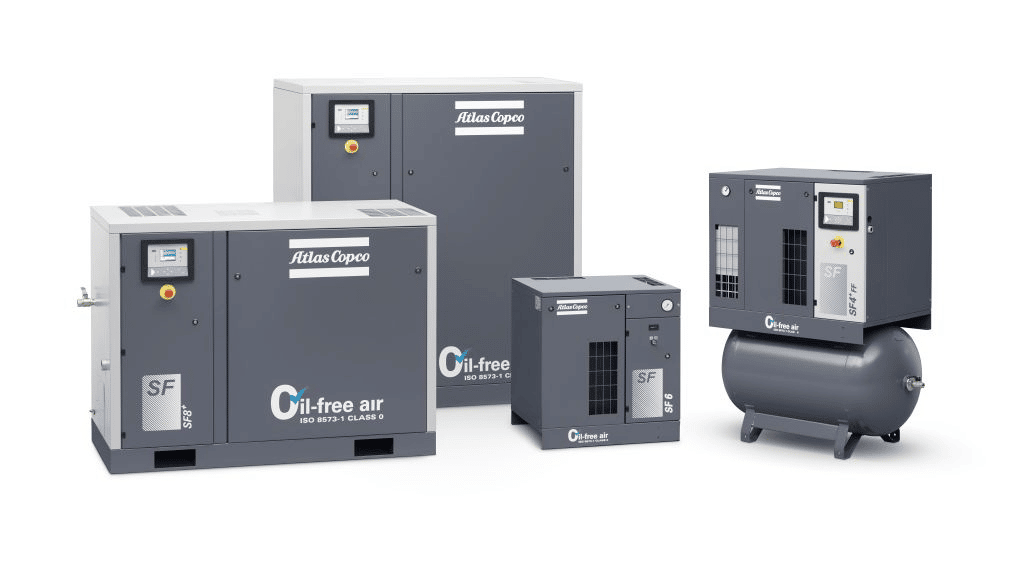 Atlas Copco's SF 1-22 oil-free scroll air compressors provide 100% oil-free for critical applications in industries such as R&D laboratories, hospitals, universities, dental applications and food & beverage service. These ISO 8573-1 CLASS 0 certified compressors are easy to operate and maintain, and have a minimal footprint to save space in your facility. SF compressors eliminate the risks of oil contamination while providing an efficient, reliable and highly cost-effective source of pure oil-free air.
Specifications
Capacity FAD (cfm): 4-86 cfm
Working pressure: 116 – 145 psig
Installed motor power: 2 – 30 hp
Customer Benefits
Certified 100% Oil-Free Air – SF air compressors provide 100% pure, clean air, complying with ISO 8573-1 CLASS 0 (2010) certification. CLASS 0 means zero risk of contamination; zero risk of damaged or unsafe products; zero risk of losses from operational downtime; and zero risk of damaging your company's hard-won professional reputation. In 2006, Atlas Copco was the first manufacturer in the world to receive such certification for an oil-free compressor.
Extremely Quiet Operation – The slow speed of the scroll compression elements ensures that the SF scroll compressors are exceptionally quiet. SF units are WorkPlace Air System™ compressors, making them suitable for installation in any working environment.
Energy Efficiency – SF scroll compressors are ideal for applications where flexibility and energy efficiency are crucial. Unloaded power consumption is eliminated thanks to the simple start/stop control. The SF 6-22 uses Variable Flow Technology to match the compressed air output to the air demand.
Low Maintenance – SF scroll compressors stand for simplicity and reliability. The scroll design has a minimal number of moving parts, ensuring a long operating life with a minimum number of service interventions.
Advanced Control and Monitoring – To maximize efficiency and reliability on multi-module SFs, the Elektronikon® controls the main drive motor and regulates system pressure within a predefined and narrow pressure band. The Elektronikon® controller can be adapted to your specific needs with extra sensors, digital contacts, fieldbus, Internet and SMS communication functions. In combination with the ES multiple compressor controller, the operation of your complete compressor room is optimized.
A10 Compressed Air Services provides a full range of Atlas Copco air compressors, vacuum pumps, filtration systems, receiver tanks and more for companies in South Carolina. For more information, Call (864) 605-7792 or email sales@a10air.com.