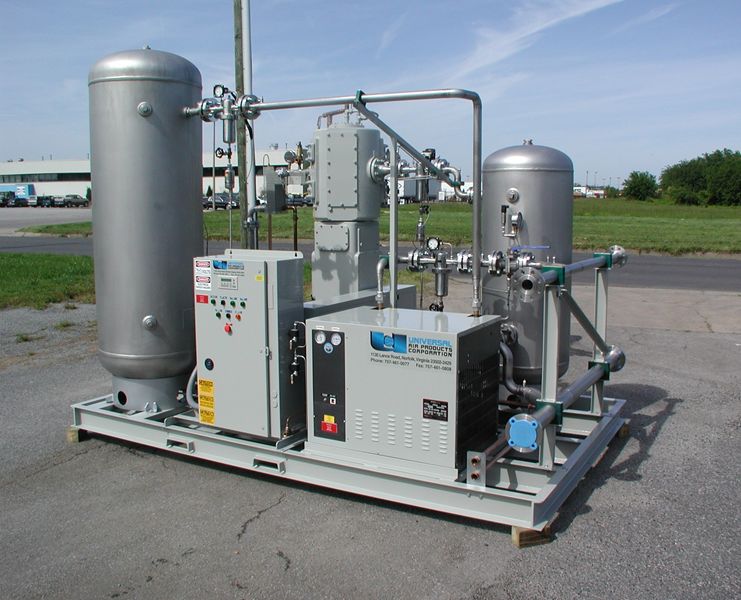 Universal Air & Gas Products Corporation (UAPC) provides a comprehensive line of standard medical, pharmaceutical or industrial compressed air, vacuum & blower system products. Standard built per NFPA-99 or custom-built designs are available. These Industries demands a high level of reliability in the equipment they use & UAPC has the knowledge & equipment to meet these requirements.
We have years of experience in the design & manufacture of medical air, vacuum & blower systems; and can accommodate a wide range of custom design solutions to meet any & all applications required. Our standard line of reliable mechanical vacuum pumps produce vacuum as low as 29.9"Hg (0.5Torr) & our combination of positive displacement blower / vacuum pump systems as low as 0.2 microns. Compressor systems vary in pressure from 5 psig to 6000 psig. Customized options & systems are available.
Contact UAPC's application engineers to assist you in determining the best system design for your application. Please email, fax or call in your application for discussion and recommendation or use our on-line inquiry form.
Specifications
Booster System Capacity
4,500 to 300,000 lpm
Blower Discharge Pressure Ratings
15 psig
16 inHg
Media
Air
Electrical Standards:
NEMA
IEC (International Electrotechnical Commission)
IP Code (International Protection Rating)
CSA (Canadian Standards Association)
Electric Motor Standards
IEC Standard
NEMA Standard
Electric Motor Options
Direct Coupled
Explosion Proof
Flexible V-Belt Drive
Fungus Protection
Mill & Chemical Duty
Open Drip Proof (ODP)
Space Heater
Totally Enclosed Fan Cooled (TEFC)
Pressure Vessel Standards
ASME
California Seismic Zone
California-LA Code
Massachusetts code
Others
TUV
Pressure Vessel Materials
Carbon steel, enamel exterior finish only
Carbon steel, epoxy-coated interior/exterior
Carbon steel, epoxy-lined interior
Others
Stainless steel, 304
Stainless steel, 316
A10 Compressed Air Services provides a full range of Atlas Copco and Universal air compressors, vacuum pumps, filtration systems, receiver tanks and more for companies in South Carolina. For more information, Call (864) 605-7792 or email sales@a10air.com.