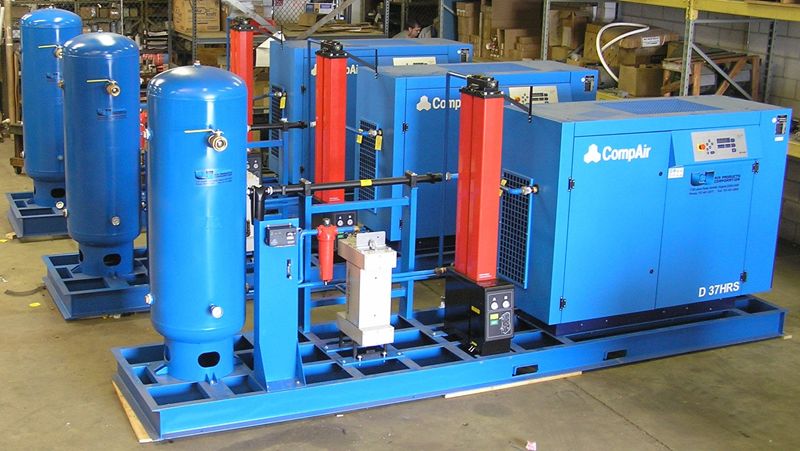 Universal Air & Gas Products Corporation (UAPC) provides a comprehensive line of standard breathing air compressor system products or custom-built designs. The two principle classifications of breathing air products are Low Pressure and High Pressure Breathing Air Compressors.
UAPCs application engineers can assist you in determining the best system design for your application. Please email, fax or call in your application for discussion and recommendation. We can accommodate outdoor, low ambient, off-shore, marine or hazardous location design requirements when required.
LOW PRESSURE BREATHING AIR COMPRESSORS
Low pressure systems provide OSHA, CGA and NFPA recognized, Grade-D or better quality breathing air at a pressure ranging from 60 to 200 PSIG. (PSIG means pounds per square inch measured on gauge, where the gauge reads zero at normal atmospheric pressure.) Fixed manifold systems and flexible hoses are used to carry the cleaned and purified compressed air to the breather(s).
Each breather must wear a Type-C breathing apparatus, which regulates the flow of compressed air through a mask, hood or suit. The amount of airflow per person, measured in SCFM (Standard Cubic Feet Per Minute) varies with the style and manufacturer of the Type-C delivery apparatus. Low pressure breathing air systems are typically employed in situations where the breather will require a continuous supply of air on a constant basis. The breather must be able to accommodate the limitations to movement that result from the compressed air feed line he is attached to.
Industrial applications for breathing air typically use low pressure supply for contaminated work station environments. Medical applications supply low pressure breathing air to patients. Low pressure breathing air is much less expensive to use and maintain, when compared with high pressure alternatives, per SCFM delivered
HIGH PRESSURE BREATHING AIR COMPRESSORS
High pressure breathing air compressors are used primarily for recharging storage banks of compressed breathing air. These storage banks are either ASME or DOT cylinders typically designed to hold 5,000 to 6,000 psig. From these storage vessels, various sizes and styles of SCBA or SCUBA tanks are recharged with Grade-E breathing air.
The high pressure storage of the compressed air allow the breather to have completely free mobility with only the burden of the high pressure storage tank on his back. These tanks have a limited time frame of usage between refills, typically less than 45 minutes.
A complete breathing air system will include the high pressure compressor system with associated controls and filtration devices, followed by a large capacity storage system and finally a containment fill station. The containment fill station is a system designed to safely hold and fill from storage cylinders the SCBA or SCUBA tank(s) to maximum pressure. A containment fill station is designed to safely contain an accidental explosion of an SCBA or SCUBA tank, should it rupture during refill.
Specifications
Compressor Types
Duplex (Multiple Compressors)
Reciprocating
Rotary
Rotary Vane
Media
Air
Electrical Standards:
NEMA
IEC (International Electrotechnical Commission)
IP Code (International Protection Rating)
CSA (Canadian Standards Association)
Electric Motor Standards
IEC Standard
NEMA Standard
Electric Motor Options
Direct Coupled
Explosion Proof
Flexible V-Belt Drive
Fungus Protection
Mill & Chemical Duty
Open Drip Proof (ODP)
Space Heater
Totally Enclosed Fan Cooled (TEFC)
Pressure Vessel Standards
ASME
California Seismic Zone
California-LA Code
Massachusetts code
Others
TUV
Pressure Vessel Materials
Carbon steel, enamel exterior finish only
Carbon steel, epoxy-coated interior/exterior
Carbon steel, epoxy-lined interior
Others
Stainless steel, 304
Stainless steel, 316