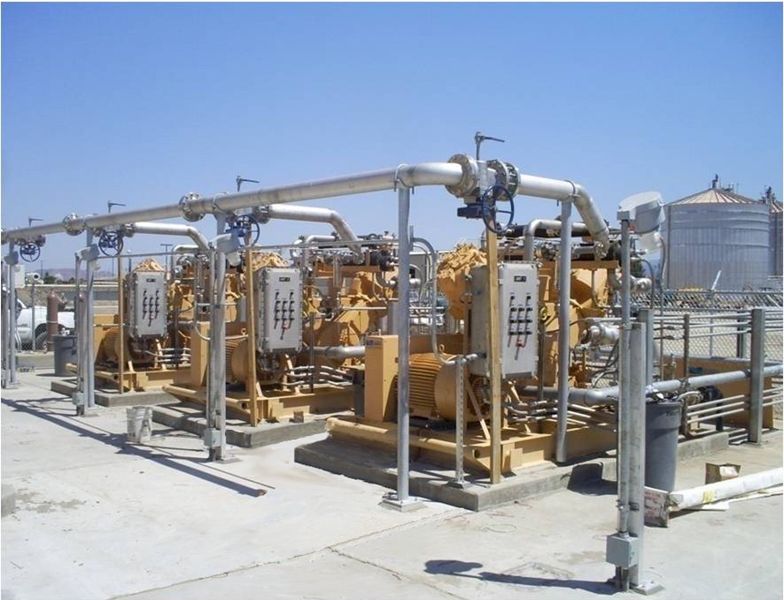 Universal Air & Gas Products Corporation (UAPC) has decades of successful experience in turn-key, alternate fuels system design and construction. Gas compression, storage, dispensing, regulation and controls are all available from UAPC. Similar expertise is applied to government, military and industry applications. These applications include process, inert and synthetic gas systems; breathing, medical and sterile air applications built to virtually any USA or international standard.
Some of the services that are provided for the production of digester, landfill, biogas, hydrogen and syngas systems are:
Consulting
System design/engineering services
In house CAD design capabilities
Standard and custom designed compression skid packages
Gas treatment systems
Construction management
Certified field service technicians and engineers support UAPC systems during installation and startup. As needed or long-term maintenance agreements are also available, which provide for routine or comprehensive technical site supervision. Documentation packages are extensive. This facilitates detailed maintenance, appropriate parts inventory, modification or upgrade provisions for the life of the installation.
Specifications
Compressor Types
Duplex (Multiple Compressors)
Reciprocating
Rotary
Rotary Vane
Lubrication Options
Oil Lubricated
Oil-Free
Oil-Less
Cooling Options
Air Cooled Aftercooler
Air Cooled Compressor Block
Air Cooled Entirely
Air Cooled Intercooler (If Multi-Staged)
Water Cooled Aftercooler
Water Cooled Compressor Block
Water Cooled Entirely
Water Cooled Intercooler (If Multi-Staged)
Installation Site
Hazardous (Explosive gas or dust potentially present)
Inside
Inside-Water Exposed
Outside
Outside-Salt Air Exposed
Outside-Weather Exposed

Types of Media
Biogas
Digester
Hydrogen
Landfill
Other Low Pressure Fuel Gas Applications
Syngas
Wastewater
Drive Type
Electric
Engine
Gas
Hydraulic
Electrical Standards:
NEMA
IEC (International Electrotechnical Commission)
IP Code (International Protection Rating)
CSA (Canadian Standards Association)
Electric Motor Standards
IEC Standard
NEMA Standard
Electric Motor Options
Direct Coupled
Explosion Proof
Flexible V-Belt Drive
Fungus Protection
Mill & Chemical Duty
Open Drip Proof (ODP)
Space Heater
Totally Enclosed Fan Cooled (TEFC)
Gas Dryer Options
Desiccant dryer
Membrane dryer
Others
Refrigerated dryer
Pressure Vessel Standards
ASME
California Seismic Zone
California-LA Code
Massachusetts code
Others
TUV
Pressure Vessel Materials
Carbon steel, enamel exterior finish only
Carbon steel, epoxy-coated interior/exterior
Carbon steel, epoxy-lined interior
Others
Stainless steel, 304
Stainless steel, 316
A10 Compressed Air Services provides a full range of Atlas Copco and Universal air compressors, vacuum pumps, filtration systems, receiver tanks and more for companies in South Carolina. For more information, Call (864) 605-7792 or email sales@a10air.com.1/4